Wednesday, November 29, 2006
Information About Indonesia
Are you considering an exciting voyage to Indonesia? This page is designed as a practical resource for first-time, as well as seasoned long-distance travelers who are ready to immerse themselves in the spectrum of unique cultural experiences Indonesia has to offer.


Itineraries
The most visited islands are Bali and Java, and there is plenty to see on these two islands alone. But there is much more. Itineraries will vary greatly based on individual interests and budgets. Backpackers as well as world-class travelers all have discovered the fascinations of Indonesia. Besides tropical beaches, there are many volcanoes, fantastic wildlife, archeological wonders, ancient traditional cultures, exotic performing and visual arts, and bustling cities.

It is impossible to fully explore Indonesia in a few weeks' time. It is therefore advisable to choose only one or two regions to explore at a time. Of course, that may mean that you will find yourself planning a return trip to Indonesia as soon as you come home from your first visit. That is not unusual. Indonesia's many charms have stolen the hearts of those who have tasted the delights that only experience can explain.

Tour packages are a good way for many solo or first-time travelers to experience the highlights of Indonesian culture and beauty. They can often be a good value as well. There are tour packages for every travel preference, from ecotourism, edutourism, and adventure sports, to beach lovers, art enthusiasts, and bargain hunters. However, if you are more the independent type, here are a few suggestions to include in your plans:

- Beach lovers often flock to the popular white as well as black sand beaches of Bali. Often called a surfer's paradise, the excellent waves of Ulu Watu, Sanur and Nusa Dua are an adventure for experienced surfers, but even beginners can learn to surf at popular Kuta and Legian beaches where rental equipment and local instructors are plentiful.

- Bali's mecca of traditional art and culture is found in the central mountains of Ubud. Tourism competes with the arts here, but together they give the visitor a glimpse into a more genuine experience of the Balinese people.

- Lombok is the small island east of Bali, which is lesser traveled by tourists, but offers white sand beaches, mountain trekking, and visits to craft villages.

- One of the wonders of the world, the Buddhist temple of Borobudur is located in Central Java. Rich with history and ancient architecture, this is the largest temple in the world. Put on a comfortable pair of walking shoes and your sun hat and plan a day to climb to the top and fully absorb this must-see attraction.

- The center of Javanese culture and a popular tourist destination is the Central Java city of Yogyakarta. This is also a university town that boasts many nearby attractions, such as the ancient Hindu temple of Prambanan.

- Northern Sumatra offers the magnificent natural wonder of the crater lake Danau Toba, which is the largest lake in Southeast Asia. Pulau Samosir is a volcanic island the size of Singapore that rises from the center of the lake.

- The famous Komodo Dragon makes its home in Nusa Tenggara, which catapults visitors back in time to the age of the dinosaurs.

- The beautiful mountains of central Sulawesi are perfect for adventurous trekking, and the Toraja people are best known for their unique and colorful ceremonies. Some of the best snorkeling and diving is also available around the reefs of Pulau Bunaken.




Travel Documents



ENTRY REQUIREMENTS: A passport valid for at least six months from arrival date and an onward/return ticket are required. It is not necessary for citizens from the USA (Canada, the UK or Australia) to obtain a visa before arriving in Indonesia. Since February 1, 2004, tourists are required to buy a visa upon arrival at a cost of $25 for a stay of up to 30 days. If you want more detailed information, contact the Embassy of the Republic of Indonesia in at (202) 775-5200 or their web site. You may also contact the nearest Indonesian Consulate General: Los Angeles (213) 383-5126, San Francisco (415) 474-9571, Chicago (312) 595-1777, New York (212) 879-0600 or Houston (713)785-1691.




Getting There & Lodging





Getting There



There are no non-stop flights from the United States to Indonesia. You must make at least one connecting flight, and depending on the airline, a stopover may be required, usually in Asia. Both transpacific and transatlantic flights are available, with the major US gateways being New York, Newark, Los Angeles and San Francisco. Lately fares can be found from the USA to either Jakarta (Java) or Denpasar (Bali) roundtrip for well under $1,000.

Note that prior to departure from Indonesia for the flight home, passengers must pay an airport tax of anywhere from Rp15,000 to Rp100,000 (approx. US$1.75 to $11.75 ) , depending on the airport.



Lodging



Lodging in Indonesia can be found to fit just about any budget, from simple and cheap to as posh and luxuriant as any five-star accommodations in the west. The US dollar goes far in Indonesia, and one could pay less than $10 per night with two meal a day at clean and adequate homestay accommodations, or into the hundreds of dollars per night at the top-notch Oberoi Bali.

Room rates at many of the mid-level hotels may be negotiable and discounts are often given if one simply asks. It is also a good idea to request the price list when checking in to be sure that you are not being quoted the highest rate. Always ask to see the room before accepting a price at the budget hotels.



Getting Around



Travel of any great distance either on or off island may be by air, bus, minibus (bemo), train, car or boat.

Air travel is relatively inexpensive and there are several domestic airlines in addition to the major national airline, Garuda Indonesia, which is named after the mythical man-bird of the Hindu god Vishnu. Garuda has a good domestic network to all major Indonesian cities and operates international flights as well.

Buses are quite economical, even the luxury air-conditioned models, for long and short jaunts. Buses are the main form of public transportation for Indonesian citizens. There is little space for luggage though, so travel light when traveling the islands by bus.

Minibuses, or Bemos, as they are called locally, are another popular form of transportation between and within cities and travel standard routes. Bemos are usually cramped and at times the drivers will try to overcharge foreigners. Also be careful of pickpockets in such crowded traveling conditions. There are also some more comfortable express minibuses that operate between the major tourist centers in Sumatra, Bali and Lombok, sometimes called "travel". They offer service from your hotel to your destination. Fare for this service is, of course, higher than that charged by the typical bemo services.

Train service in Indonesia is only operated in Sumatra and Java. The best service is in Java, which is comfortable and convenient. The train service in Sumatra is minimal by comparison.

In some areas car and motorcycle rental is available, but realize that Indonesians drive on the left side of the road, and often any side that will serve their purpose. Driving in Indonesia can be a hair-raising experience for the mild-mannered tourist. Many Indonesian drivers have never had any formal driver's education and licenses are often acquired mysteriously, if at all. If you are involved in an accident, it can be a nightmare. Because you are a foreigner, you will be held at fault no matter what the actual situation was. A wiser choice is to hire a driver, travel by taxi, or use public transportation.

There are ferries that run between all of the islands. The sailing frequency is from several times per day to several times per week. Most accept large vehicles as well as motorcycles and passengers.



Time & Money





Time



Indonesia has three time zones:
bullet

Western Indonesian Time - GMT +7
bullet

Central Indonesian Time - GMT +8
bullet

Eastern Indonesian Time - GMT +9

To quickly and easily see what time it is anywhere in Indonesia (or the rest of the world for that matter) go to World Clock, cities are listed alphabetically.



Money



Indonesian currency is the rupiah. You will be happy to know that the US dollar goes far in Indonesia. In fact, most of the cost to visit Indonesia is for airfare, unless of course, you choose to stay at the ultra luxury hotels whose room rates are comparable to those in the States.

The exchange rate as of February 2004 was approximately Rp.8500 to $1 USD.

The current exchange rate is published daily in The Jakarta Post.

Prices quoted in rupiah or dollars can easily be converted using the Universal Currency Converter.

You will have to change your money, and in tourist areas, there are plenty of moneychangers and banks available. The best rates are generally at the banks, though moneychangers in Bali may give a better rate for cash as opposed to travelers checks. Curiously, newly printed (2001 or newer), unfolded and unmarred US bills draw a better rate than do older bills of the same denomination. Larger denominations are more desirable than smaller ones. So if you do bring cash, it is worth it to ask for crisp, new bills from your banker before leaving home. Always carefully count your rupiah before handing over your dollars or travelers checks, especially when dealing with moneychangers in Bali.

As far as the use of credit cards, many of the larger hotels, restaurants and stores in tourist areas and large cities will accept them, but if you go to the smaller budget hotels, guest houses, homestays or local restaurants and shops, be prepared to pay in rupiah.



Packing



Packing light is always recommended for long-distance travel. You should be able to carry all of your luggage yourself for 15 or 20 minutes without too much struggle.

Indonesia is a warm, tropical climate year-round. Casual, loose, light-weight clothing of breathable, wrinkle-resistant material is preferable. It is generally best to dress conservatively throughout Indonesia where culturally, manners and courtesy are important. Wearing shorts, tank tops and bathing suits outside of beach areas is considered rude.

Under-packing is better than over-packing since clothing is delightfully inexpensive in Indonesia. Buying any additional clothes you may need during your visit there is a practical way to bring home some personal souvenirs. However, remember that Indonesians are generally smaller people than westerners, so be aware that larger sizes for both men and women may be difficult to find.

Remember to bring the following items:

Sunglasses, hat and sunblock

Insect repellent

Umbrella or rain poncho

Extra pair of prescription glasses or contacts

Medications in original containers with copies of prescriptions

Personal toiletries, such as shaving cream, dental floss, tampons, small tissue packets and moist towelettes, which may be difficult to find after your arrival.

For excellent tips on packing methods and traveling light, as well as many travel resources, visit

OneBag.com

A recommended book that is very helpful when planning your trip is The Packing Book.

Our Toko Shop also has links recommending suppliers of travel accessories and luggage.



Health & Safety





Health



A little pre-trip education and planning is wise for any overseas journey. Indonesia does not require vaccinations before travel, however, the Center for Disease Control recommends the following before travel to Southeast Asia:

See your doctor at least 4–6 weeks before your trip to allow time for shots to take effect.
- Hepatitis A or immune globulin (IG).

- Hepatitis B if you might be exposed to blood (for example, health-care workers), have sexual contact with the local population, stay longer than 6 months in the region, or be exposed through medical treatment.

- Japanese encephalitis, only if you plan to visit rural areas for 4 weeks or more, except under special circumstances, such as a known outbreak of Japanese encephalitis.

- Rabies, if you might be exposed to wild or domestic animals through your work or recreation.

- Typhoid vaccination is particularly important because of the presence of S. typhi strains resistant to multiple antibiotics in this region.

- As needed, booster doses for tetanus-diphtheria and measles, and a one-time dose of polio for adults. Hepatitis B vaccine is now recommended for all infants and for children ages 11–12 years who did not complete the series as infants.

Far and away the most common health problem for travelers to the major cities and tourist areas in Indonesia is travelers' diarrhea or "Bali belly." This is caused by contaminated food or water, or even just the sudden change in climate, diet, as well as bacteria new to the digestive system. Up to 50% of all travelers (not just those to Indonesia) experience some upset to their system in the early part of a trip. A few rushed trips to the toilet with no other symptoms should be no cause for alarm. Just be sure to drink plenty of clean water (air putih) and eat a light, bland diet for a few days.

To stay healthy, do...

- Wash hands often with soap and water.

- Drink only bottled or boiled water, or carbonated (bubbly) drinks in cans or bottles. Avoid tap water, fountain drinks, and ice cubes, although ice served in all the restaurants in Bali are controlled by the government and safe.

- Eat only thoroughly cooked food or fruits and vegetables you have peeled yourself. Remember: boil it, cook it, peel it, or forget it.

- If you visit an area where there is risk for malaria, take your malaria prevention medication before, during, and after travel, as directed. (See your doctor for a prescription.) The actual risk of malaria is minimal in most of the main cities and well-populated areas of Indonesia. However, the risk increases in less populated areas, and some rural areas, as well as Irian Jaya, are considered high risk areas.

- Protect yourself from mosquito bites:

- Pay special attention to mosquito protection between dusk and dawn. This is when the type of mosquito whose bite transmits malaria is active.

- Wear long-sleeved shirts, long pants, and hats.

- Use insect repellents that contain DEET (diethylmethyltoluamide).

- Read and follow the directions and precautions on the product label.
- To prevent fungal and parasitic infections, keep feet clean and dry, and do not go barefoot.

To avoid getting sick...

- Don't eat food purchased from street vendors.
- Don't drink beverages with ice.
- Don't eat dairy products unless you know they have been pasteurized.
- Don't handle animals (especially monkeys, dogs, and cats), to avoid bites and serious diseases (including rabies and plague).
- Don't swim in fresh water. Salt water is usually safer.


Safety



It should be remembered that Indonesia is still a developing nation, and religious and cultural diversity also has its downside, at times leading to unrest and even riots. In northern Sumatra there is currently a violent struggle for independence in Aceh, and in the Maluku islands religious strife between Moslems and Christians continues to flare up. These areas should be avoided by tourists. Terrorism has also been a concern over the past year in Java and Bali, so travelers are wise to be aware of the current social climate and steer clear if any large public demonstrations are encountered.

Conditions have improved in the popular tourist areas of Jakarta, Yogyakarta and Bali due to increased security measures by the government; travelers and expatriates report experiencing no safety concerns due to the social climate or attitude toward westerners. Indeed, the Indonesian people are generally extremely hospitable and view foreigners as their guests. However, each traveler contemplating a visit to Indonesia must make his/her own decision regarding whether or not travel is advisable. It is wise to make an informed choice and consider your personal risk tolerance. We recommend keeping abreast of the news in Indonesia and reviewing appropriate travel warnings (also see FAQ About Travel to Indonesia).



Personal Matters





Restrooms



When looking for restrooms, ask for the "way say" (WC), toilet or "kamar kechil" (kamar kecil), and your needs will be understood.

Using restrooms in Indonesia may at first be a challenge for American travelers who are not accustomed to the Indonesian squat toilet. There are several kinds, but they are basically all holes in the ground with foot rests on either side. Don't panic yet, however, since most restaurants and hotels in major tourist areas are equipped with the standard Western throne-style toilets. Eventually, though, you will encounter a squat toilet.

For a light-hearted discussion of squat toilets, along with extremely helpful instructions on their use, we highly recommend reading Going Abroad by Eva Newman.



Bathing



Many tourist hotels are now equipped with hot water and showers, but you may encounter another form of bathing at the lower priced accommodations. The Indonesian mandi is generally a tiled water reservoir with a plastic saucepan. Do not climb into the reservoir to bathe! The proper method is to scoop the water out and pour it over yourself. Yes, the water is cold, but with an open mind in a hot tropical climate, you will come to enjoy your rather refreshing morning and early evening mandi. It is customary to bathe twice daily in Indonesia.

Note: Something to keep in mind when taking care of personal hygiene, remember to brush your teeth using only boiled or bottled water. Never use tap water, or you risk a case of "Bali belly."



http://www.hello-indonesia.com/HelloIndonesia/Travel.htm#Health%20&%20Safety



Indonesia Culture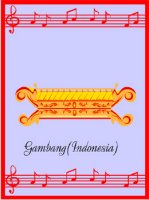 1 Like the people on Indonesia's many islands, Indonesia's culture is a wonderful mix. It is colorful, musical, and truly spectacular. But to really understand Indonesia's culture, it is helpful to know some history and geography.
2 Indonesia is a group of islands in the eastern Indian Ocean. Groups of islands like this are called an archipelago. The Indonesian archipelago has many islands, both big and small. Indonesia is close to India and China. Both of those countries have a long history and strong culture. And both countries helped shape Indonesian culture.


3 Throughout Indonesia's history, immigrants from India and China brought parts of their culture with them. The religions of Hinduism (from India) and Buddhism (from China) made their way to Indonesia early on. Different art forms also came to Indonesia from other nearby countries.

4 Neighbors influenced one of Indonesia's most well known forms of music. This music is called gamelan. If you aren't familiar with Asian music, it may be the strangest music you'll ever hear. It is very different from Western music.

5 Gamelan is played with lots of different percussion instruments. A percussion instrument is something that is hit, like a drum, cymbal, or bell. In gamelan, many different percussion instruments are used. Bells, chimes, and gongs can be easily recognized. Others are unusual, like the metallophone and bamboo xylophone. Gamelan orchestras arrange their instruments in a specific way.

http://www.edhelper.com/ReadingComprehension_Geography_234_1.html

Thursday, November 23, 2006
Purwokerto, Central Java

Purwokerto, city in central western Indonesia, in the central region of the island of Java. Located in the province of Central Java, Purwokerto lies south of Mount Slamet and 50 km (30 mi) northeast of the port of Tjilatjap on the south coast of Java. The city is a center for small-scale production of goods that are sold locally,

and many businesses operate out of homes. The region around Purwokerto is one of Java's poorest. Most of the rural population farms wet rice on a subsistence level, and Purwokerto serves as a market and provider of services for these people. Purwokerto is on a railway line running from Tegal on the north coast to near the south coast, where it connects to the BandungYogyakarta- line. The route to the Baturaden resort on the southern slopes of Mount Slamet passes through Purwokerto. The city is home to Jenderal Soedirman University, founded in 1963. During Indonesia's colonial period (which ended in 1949), Purwokerto was a center for indigo, tea, coffee, and rubber plantations. In 1936 it became an administrative city. Population (1990) 196,000.

Lake Sentani, Papua
Treks into most mainland areas require an arrival by flight into the Lake Sentani area located close to the West Papuan capital city of Jayapura. This region is a beautifully dramatic introduction to Papua. A huge wall of vegetation called the Cyclops sits majestically above Lake Sentani and makes for a stunning backdrop to the clear waters.


The best way to see the Lake and adjacent areas is by motorised canoe. This transportation allows you uninterrupted perspectives of the area access to visit the small fishing village built on stilts over the lake. Fishermen have been plying their traditional trade here for many generations.

Lake Sentani is a famous primitive arts centre. Bark paintings, sago bowls and small-carved items are amongst the local handicrafts found here. Kelly is a private collector of primitive Papuan art and therefore he has the depth of knowledge and connections to ensure that you pay the right price and that all items purchased are genuine.

The port city of Jayapura sits on the coast and has a population of around 250,000 including many people from other parts of the Indonesian archipelago. It is not an unattractive city and you will find museums, hotels, an assortment of restaurants, banks and markets for shopping. From Jayapura it is easy to take guided overnight treks to primitive villages and it is a 45-minute flight to Wamena, the main town of the famed Baliem Valley.



Sunday, November 19, 2006
Indonesia Train Schedule
Try to find Indonesia Train Schedule. Visit
http://ticketing.kereta-api.com/
. You can find all indonesia train schedule, ticketing and train route here. Dont worry, its in Indonesian but you can find your destination easily.
Karaton Surakarta Hadiningrat
Since February 17, 1745, Susuhunan Pakubuwono II and his family had occupied the new palace or karaton located along the banks of Solo River, the longest river in Java. The former karaton in Kartosuro (10 km west of Solo) had been abandoned due to severe damages. It was not a proper karaton for the Susuhunan (king) anymore, after being ransacked on 1742 by the invaders. Pakubuwono II with all his family and subordinates made a day long royal procession from Kartosuro to Surakarta. The city of Surakarta could easily connected to east Java main coastal centers such as Gresik, Tuban via Bengawan (river) Solo. This 'river connection' was one the reasons to move the palace to Solo. Pakubuwono means 'center of the world' (paku : nail, buwono : the world).

The king sat on his royal wagon, Kyai Grudo escorted by high ranking officials, troops, regalia carriers, bringing the pusakas (heirlooms) and other important things to be used in his new palace. The convoy includes also the sacred gamelan, waringin (Banyan) trees, horses, elephants and a special chamber Bangsal Pengrawit. Upon arrival at the new karaton, he announced that starting from today the capital city of the kingdom was Surokarto Hadiningrat (suro : brave, valiant - karto : prosperous - Hadi : great, precious - rat : state).

Coming from the north side of Jalan Slamet Riyadi through a thoroughfare (gladak), a visitor arrives in the North Square (alun-alun Lor). In the center of Alun-alun, there are two waringins (Banyan) trees symbolizing protection and justice.

The throne hall Sasono Semowo or Pagelaran faces the square. In the old days, it was from this hall, the Susuhunan or king delivered his massage and received report from his government read by his Patih (chief minister). Further south, several steps up, there is the Siti Hinggil (high ground) where the GAREBEG ceremonies started (in separate article: garabeg in Solo and Jogya).

Passing through the main gate or kori of Brajanala (braja: ray - Nala: feeling) one enters the fort Baluwerti on Kemandungan square. Enter to Sri Manganti, where one has to wait for audience with the king. And there is the main location called KADATON. In the center is the main throne hall Sasono Sewoko, where the king received obedience from his court family and subordinates. It is also a place he practiced meditation (samadi). There is a small Pendopo (hall) called Pringgitan, where leather puppet (wayang kulit) performs from time to time. Next to Sasono Sewoko is Sasono Handorowino where royal banquets are given.

Leaving Kadaton to south, there is the Magangan court, where the court dignitaries entered the sanctum along this route. There is a pavilion of meditation for princes. There is a sacred meteorite on the rear bank of the pool. From here southward, passing the gate or kori of South Brojonolo, then Sitinggil Kidul, one arrives in the South Square (Alun-Alun Kidul) The Palace's elephants and buffaloes grazed here in the old days. Due to the existence of the elephants with its ivory trunks, this place is popularly known as GADING (Ivory).

Taking lessons from Kartosuro Palace, which were easy to be attacked by enemies, the new Surakarta Palace fortified itself.

So, the Alun-Alun was also meant to be a battleground to resist any attack. Several batteries of soldiers were installed in Pagelaran and in front of it (GELAR= formation of troops; Pagelaran = a place where battle tactics are decided). The routes encircling the Alun-Alun are called Supit Urang (Supit-pincers; Urang = crab), symbolizing a tactic to defeat the intruders.

The reserves (of soldiers) were held in the square of Kamandungan, Sri Manganti was a rest place.

In Baluarti, there were rice - barns, arsenal and ammunition depot, and stables for horses of the cavalry and the special garrison of the king's guard (Tamtomo). The palace is also a place of high spiritual meaning of old Javanese faith. As there are seven stairs and seven gates at Candi Borobudur, there are also seven squares at Solo Palace :

1. Pamuraan Njawi
2. Pamuraan Nglebet
3. Alun-Alun Lor
4. Sitinggil
5. Kamandungan
6. Sri Manganti
7. Plataran

And Seven Gates (Gapuros) :

1. Gladag
2. Gapuro Pamuraan
3. Kori Wijil
4. Kori Brojonolo
5. Kori Kamandungaan
6. Kori Mangun
7. Kori Manganti

There is Panggung Songgobuwono (panggung-tower ; songgo-to support ; Buwono the world) in Baluarti, a tower with octagonal form. Some believe that it is a place where Sri Sunan (a popular name for the king) continued the tradition of his ancestors to meet with the Goddess of South Seas (Kanjeng Ratu Kidul) at least at the anniversary of his coronation.

West of Kedaton, there is a place called Mantenan, where there was bandengan, a fishpond with gurameh fishes and turtles (symbols of long age of life). In the old days, Sri Sunan delivered the teaching of life philosophy and cleaned his heirlooms. In the high ground he did meditations and there is a mosque - Pudyosono (a place to worship).
Karaton Surakarta as one of the stronghold of Javanese culture is opened daily to be adored by visitors. It has a museum and art galery where some precious collections are exhibited, such as keris (daggers), masks, leather puppets, etc.

At present, the King of Surakarta is Sri Susuhunan Pakubuwono XII.

Arts, Cultures, Rituals and Other Information of Karaton Surakarta Hadiningrat

Media KARATON SURAKARTA (MEKAS), a monthly 'newsletter' published by Yayasan Pawiyatan Kabudayaan Karaton Surakarta

(Suryo S. Negoro)

Jamu (Traditional Herbal Medicine)
JAMU
'Back to nature' is not merely a slogan in Java and Indonesia. The visible proof is the use of traditional herbal medicine of various type of 'medical plants', either from the leaves, the fruits, the roots, the flowers or the barks, etc.
These herbal medicine had been used since the ancient time up to now, it is largely consumed by people of different level; lower, middle and upper, in the villages and in the big cities.
The study of jamu had been conducted by Rumphius, a botanist as early as the year 1775 AD by publishing a book 'Herbaria Amboinesis'. A scientific research for jamu by the research center of herbal medicine in Bogor Botanical Garden, resulting a publication of a book 'Medical Book for Children and Adults', composed by E. Van Bent.


The first seminar about jamu has been held in Solo in 1940, followed by a Formation of Indonesia's Jamu Committee in 1944. In the 1966, a seminar on jamu was held again. In 1981, a book by title of 'The use of Medical Plants' was established to support the jamu industry in the country.

The method of using the jamu remains the same as the ancestors did. Some are consumed by drinking it and some are for outside application.

At present one could buy easily ready made jamu packed modernly in the form of powder, pills, capsules, drinking liquid and ointments. Of course there are still jamu shops, which sell only ingredients or prepare the jamu on spot as required by buyers. Some women are roaming the street to sell jamu, is a common view across the country.

The traditional methods of making jamu such as by boiling the prepared herbal ingredients (jamu godok) still prevail in Javanese society. The popular traditional tools of making jamu are still available in many Javanese houses such as; Lumpang (small iron Mortar), pipisan, parut (grater), kuali (clay pot), etc.



What kind of disease could jamu cure?


The reply is almost every disease, jamu could cure. There are various kinds of jamu to combat different kind of illness. In Principle there are two types of jamu; the first is jamu to maintain physical fitness and health, the locally popular are Galian Singset (to keep women body fit and slim) and Sehat Lelaki (to keep men body healthy). The second is jamu to cure various kinds of illness. Except the above, there are special jamu created with the purpose to maintain a loving family harmony. The popular products among other are Sari Rapet, which makes a women sexual organ in a good condition, as for the man the matched product is jamu Kuat Lekaki (strong man). The Javanese are also taking a great care to pregnant women during pre and postnatal period by producing the related jamu. There are also jamu for the babies.



The Herbs for Jamu


There are hundreds of herbs for jamu prescriptions, among other are:



Spices


Ginger (Zingiber Officinale)
Lempuyang (Zingiber Oronaticum)
Temu Lawak/ Wild Ginger (Curcuma Cautkeridza)
Kunyit/ Tumeric (Curcuma Domestica)
Kencur/ Greater Galingale (Kaemferi Galanga)
Lengkuas/ Ginger Plant (Elpina Galanga)
Bengle (Zingiber Bevifalium)



Leaves


Secang (Caesalpinia Sappan Hinn)
Sambang Dara (Rexco Ecaria Bicolar Hassk)
Brotowali (Tiospora Rumpii Boerl)
Adas (Foeniculum Vulgare Mill)



Fruits


Jeruk Nipis/ Calamondin (Citrae Aurantifalia Sivingle)
Ceplukan (Physalic Angulata Him)
Nyamplung (Calophylum Inaphyllu)



Barks


Kayu Manis/ Cinamon (Gijeyzahyza Glabra)



Flowers


Melati/ Yasmin (Jataninum Sunbac Ait)
Rumput Alang-alang (Gramineae)

It is worth to note that some jamu factories in Java are exporting its products. Besides the export of ready made jamu, 25 kinds of herbal plants and ingredients are also in the list of export to Europe, Australia, USA, Japan, etc.



No Side Effects


The people like to consume jamu due to :

* Availability in many places
* Comparatively cheap price
* No side effects





TRADITIONAL COSMETICS





The Natural Beauty of Woman


A Javanese woman is very much concern for her physical appearance to be always slim, beautiful with an alluring bright smiling face.

As a Javanese idiom says "Ngadi Sarira" to maintain the body to be always in perfect condition is of prime important. The way of life of a Javanese is greatly influenced by the royal culture. Not surprisingly that the art of "Keeping Beauty' is originated from the court palaces.



The Secret of a Princess Beauty


The Ladies of the Royal Families have a reputation to inherit the beauty of goddesses from paradise.

As told in the story of wayang (leather puppet) by the dalang (puppet master) , all parts of a princess body is always perfect and alluring: the beautiful black thick hair, a smooth skin, bright eyes, charming eye brows, eye lids and nose, bright reddish lips, white nicely teeth, wonderful built neck and shoulder, beautiful hands and arms, a waist like the one of a bee meanings slim and perfectly built.

The dalang with a clear deep voice, like in the poem reading adores the beauty of a princess with a thousands of words. It seems that all words of a complete dictionary are not enough to express of what a wonderful beauty a princess has.



The use of Traditional Jamu and Cosmetics


Nowadays, some secrets of this Karaton (Palaces) culture of "Ngadi Sarira" are known by many women from outside the Karaton walls. The Jamu is widely used to give an inner beauty, due to a good physical health.

Some of the products are consumed directly by eating it, for instance Kepel Fruit (a brown fruit of a chicken egg size), it's a natural deodorant. By eating it that would fragrant the odor of the body even the urine smells the fragrance of that fruit.

Jambu Mawar ( a kind of rose apple, mawar means a flower of rose) gives a fresh smell of breath. Some cosmetics are for outside application such as bedak dingin (cool powder) and lulur (scrubbing powder).



Beauty Care


Every woman is always proud of her hair – thick and shining, color and style. For natural shampooing, the ash of rice stalks work as a shampoo to clean the hair. After being washed by water, ingredients consist of
coconut milk, jeruk purut (a kind of citrus fruit smells like a lime ) and pandanus leaves are to be applied. It functions as a conditioner to clean the dandruff. The hair then washed by water again, to be dried while vaporizing with ratus fragrance.

Finally, a hair oil by the name of cemceman, made of coconut oil with pandanus , kenanga flower, jeruk purut etc. is applied.



Skin Care


For face caring, bedak dingin (cool powder) is applied. It's made from tendered rice with special ingredients, such as pandanus, kenanga flower etc.

For other parts of the body, lulur is applied, popularly known as mandi lulur (lulur bathing).

Lulur is also made from tendered rice, pandanus, some leaves of kemuning (with yellow color) and some medicinal roots. The lulur should stimulate the body to throw out the dead cells, replace it with new ones, stimulate blood circulation under the skin, smooth the skin and at the same time scents it.



Steaming the body


Steams of several boiled herbs are applied to ensure body freshness, including the woman organ. The steaming took about a ½ hour.



Producers


Besides the traditional cosmetics made by hand, in the country there are some big and well known manufactures of cosmetics, using modern machinery. These products are used widely across the country, even this cosmetics have been exported to many countries of the world.

(Suryo S. Negoro)

Friday, November 10, 2006
Dayak Tattoo
In Dayak culture, tattoo is not only for esthetics reason, but it's a part of their tradition, religion, and social status and or as an appreciation for someone's special ability. For dayak people tattoo has a meaning of a torch in their journey to the eternal live after death. More tattoos, means more torches and also means more easier to them to reach the next world. But they can not have tattoos as much as they like since there are tribal laws to obey in making tattoo.


Most of dayak sub tribe have tattoo tradition, but there are sub tribe that do not have it. Every dayak sub tribe have their own rules and laws according this tradition.

The reason behind that tattoos.

There are dayak sub tribe who live in Indonesia – Sarawak (Malaysia) border who have a special tattoo in their finger, as symbol for their ability in medication. Someone with lots of tattoos means lots of medication experience and ability and that's means these persons are expert and has helped many life.

For dayak Kenyah and Kayan in East Borneo, more tattoos means more wandering to visit other village – in Borneo, they could visit other village thousands kilometers far from their home, including travel by boating along the rivers more than on month!

Tattoo also given to the royal family. Usually they have 'enggang' bird tattoo motive, some kind of endemic bird. For sub tribe Dayak Iban, the chief and his clan have tattoo in 'ski living creature' motive, like birds etc. The motive for royal family has good quality details and finishing than common people.

For other sub tribes, tattoo is related to their tradition of 'ngayau' or slaughtering and cuts enemy's head on battlefield, more head slaughtered means more tattoo motives they have. This tradition of course can not be done at this time. Tattoo for the brave warriors who slaughtered many enemies' heads usually placed on the right shoulder. In other sub tribe, the tattoo will be placed on the left arm for middle level bravery, and on the right arm for warrior who have an incredible bravery.

Not only men, women also have tattooed. For women, they only have tattoo on arm and leg, and there is religious motivation to have it, in order to get God blessing and protection from evils. In certain sub tribes, women who does not have tattoo considered as lower class society.

In Dayak Kayan sub tribe, there are 3 kinds of tattoo for women; tattoo on all over of legs and feet and applied for adult women only, on arms and hands, and all over the thighs.

In Dayak Kenyah, tattoo for women created when a girl have her first menstruation or about 16 years old. There is special custom ceremony in the making of tattoo for women. The ceremony is hold in a special house, and no men allowed go outside their houses during the ceremony.

Women have limited motives of tattoo, like black nail on finger or tiger face on arm. Dayak women who have tattoo on their thigh usually have high social status, and also wearing a bangle on the lower legs.

How do they make these traditional tattoos?

In the beginning, tattoos created with natural tools like thorn taken from lemon tree, but in this time they are using needle, but they are still using soot for the ink to get black color tattoo.

So, if you see 'multicolor' tattoo on a young Dayak, it must be modern tattoo for 'modern reason' instead of traditional tattoo that have a lot of philosophy.
Makasar, South Sulawesi
Makasar (or Makassar)
is a trade emporium that rose rapidly to prominence n Indonesia in the C16th and became one of the most important nodes in the vast East Asian international trading network. Renamed Ujung Padang in 1971, Makasar is based on the south of Sulawesi island in the eastern part of the archipelago. Its origins are not entirely clear - indeed, like so much of the region of island Southeast Asia, the early history of Makasar is rooted in a combination of possible reality and legend.


The most likely explanation of the rise of Makasar is that southern Sulawesi consisted of a handful of small individual kingdoms of no great significance. Trading links with Java and further afield had been established for some centuries prior to the rise of the Majapahit state. Traditionally, there were nine such states but it is not clear exactly where each of these were, if anywhere at all. Off the coast of Sulawesi, a couple of chains of tiny islands offered shelter, fresh water and fish and sea food in extraordinary abundance. These conditions were ideal for the Bajau, the name given by Indonesians to the boat-based sea nomads who lived in so many parts of the region for centuries and who have persistently (but not always successfully) resisted attempts to integrate them into the main central state. Together, in an as yet not fully understood process, the Bajau and the native Sulawesians combined to produce Makasar as a complex and sophisticated political state with the ability to host communities of foreign merchants and to produce perhaps the greatest fort that any Indonesians have ever built.

It is interesting that pre-Islamic Makasar and indeed Sulawesi was constituted of what seems to be quite a separate culture than that of other parts of Indonesia, signifying a different ethnic composition. Presumably, this resulted from a unique migration pattern at some distant stage in the past.

Makasar gained a reputation for being kind to strangers, which perhaps resulted from its enactment of laws which regulated the treatment of foreign merchants in the days before the Europeans arrived. Most of these merchants were Malays from various parts of the archipelago and they were guaranteed freedom from official interference in their home and personal lives and justice for them in their professional dealings. Thousands of Malays went to Makasar to settle there and help to establish it as a leading port for trade. Makasarese checked cloth soon became the most popular Indonesian textile and demand for it was strong in many international markets. Makasar leaders used the power of the presence of foreign merchants and the popularity of locally produced products, including tortoise-shell as well as cloth, to obtain a leading position in the lucrative and vitally important spice trade. This was successfully achieved and particularly so after the Portuguese seizure of Melaka in 1511.

However, the success achieved then made Makasar an inevitable target for the Europeans and, despite the immense strength of the fortress constructed to create themselves, the Makasarese were ultimately doomed to the misery of colonisation.

http://www.suite101.com/article.cfm/18175/116605

Serat Centini, a Javaneese Traditional Sex Manual
I'm sure that you know well about Kama Sutra. How about this traditional javaneese sex manual written in early 19th century? I'm sure you will get interested too. Many people believe that this Indonesian traditional sex manual is more complete and "challenging".


This ancient literature written by 3 authors of Surakarta (Solo) Sultanate palace; Yasadipura II, Ranggasutrasna and R. Ng. Sastradipura in 1815 ordered by the Sultan, K.G.P.A.A Amengkunegara II or also called as Sinuhun Paku Buwana V.

Serat Centhini also explained about the manner in having sex between husband and wife according to Java culture manner. For example; In having sex, we have to 'empan papan', that is mean we have to knowing about the situation around, the place and condition, not in rush, and it is a both side wants. The manners in having sex also refer to hadis (message word) from Prophet Muhammad SAW. For example; It is suggested to take a bath, use perfume and make a pray before having sex with your wife/husband.

Serat Centini (also called as Suluk Tembangraras) consisted of 722 javaneese traditional song containing about sex and sexuality. In this literature, sexual disclosures come in many ways. For example, the chapter Centhini II (Pupuh Asmaradahana) explains the techniques about how to get quick orgasm or delay it, and how to delay ejaculation to get more longer and 'unforgettable' coitus.

The next chapter Chentini IV (Pupuh Balabak) explains about pratingkahing cumbana or coitus styles, and also explains about woman character and how to 'turn them on'! For example, surya sumurup is a type of women who has pink lips, rather blue eyes, and has a curly sinom (thin hair at the top of her forehead). This kind of woman will never cheat her man and has 'perfect harmony' in having sex with her husband, so they will always get orgasm along with her husband's ejaculation ('come together!').

This chapter also explains about the coitus position according to javaneese culture. In penetrating, a man must know his wife type. From this condition, they have various style, such as; kadya galak sawer (his pecking just like a wild snake!); lir ngaras gandane sekar (grope the smell of the flower); lir bremana ngisep sekar (honey bee sucks flower); lir lumaksana pinggire jurang (at step a side of ravine); baita layar anjog rumumbaka (sailing boat down to the sea) and many more!

In the past, javaneese also have many jalu usada (sexual medication) in order to get strength in having sex. For example; in Serat Centhini VII (Pupuh Dandhanggula), there is a formula to keep the sperm jell and fertile, and also keep the man's penis strong and 'long lasting'. The formula is; merica sunti (pepper), 7 cabe wungkuk (bent chili pepper), garam lanang (salt), arang kayu jati (teak wood charcoal), and ¼ of gula aren (palm sugar). All of ingredients are softened with pipisan (the ancient softener tool made from solid stone) in the middle of field yard right at noon! The softened ingredient then compacted as capsules.

This capsules (called as jamu – herb medicine) then swallowed along with spelling mantra (magic spell) at the same time. The mantra is; "Sang dewa senjata akas-akas, kurang baga luwih akase, kurang baga akukuh, ora ana patine". What's that mean? Oh, please just mark the last 3 words of the mantra; ora ana patine, that's means "Never Die!"

Source : Intisari magazine, May 2005 by Al. Heru Kustara.
Nusa Penida, Bali
Rarely visited by tourists, the towering southern seacliffs of the mysterious and foreboding island of Nusa Penida are clearly visible from Sanur Beach. The district capital is Sampalan, the island's principal town about 18 km from the island of Bali. There's only one other town of any size—Toyapekeh—and about 15 villages scattered along the coasts and in the acorched and inhospitable highland interior of the island.


Because of its mountains, Nusa Penida gets more rain, produces more crops, and is therefore better off economically than Nusa Lembongan or Nusa Ceningan. Nusa Penida and its satellite islands offer fine swimming, surfing, snorkeling, scuba diving, and sunbathing, also dramatic walks, unspoilt scenery, deep caves, and delightful, friendly villages. Not an island rich in elaborate temples, dance and drama performances, or the plastic arts, Nusa Penida is like a Balinese outpost transplanted to some alien shore. It's off the map, metaphorically speaking.

Radio communication between Klungkung and Sampalan wasn't established until 1985. The island has one hospital and one post and telegraph office. Generator-supplied electricity—and TV reception—exist only in the Sampalan area. The highlands, with its rough beauty, crude dwellings, and backward inhabitants, feel like the interior of Sumbawa. The roads are generally good, though there's very little traffic. People are easy to meet and talk to. The island is cooler than the mainland, there's less pollution, and the air seems to circulate more freely. Sampalan and Toyapekeh have the only official accommodations. Rice, fish, and vegetables are the main staples in the island's warung. Most visitors stay in Jungut Batu on Nusa Lembongan and come over to Nusa Penida island on day trips.

Land and Climate

The body of water separating the three islands from Bali—Nusa Penida, Lembongan, and Ceningan—roughly marks the division between Asia and Oceania. As the Balinese say, "Here the tigers end."

Though the Badung Strait that separates the islands and the main island of Bali is more than 100 meters deep, the trench in the Lombok Strait between Nusa Penida and Lombok is even deeper. Here the sea plunges to depths of over 300 meters just four km off Nusa Penida's east coast. The main island, nearly rectangular—22 by 16 km—with a total area of 203 square km, is basically a giant slab of limestone seabed uplifted out of the ocean. In its center is a stepped, rocky plateau—clearly seen as you approach the coast by boat from Bali—very similar in terrain and geology to the Bukit Peninsula of south Bali. A string of low, beautiful, palm-fringed, silvery white sandy beaches are found along the north, northwest, and northeast coasts, fringed with coral gardens. With waves crashing against sheer cliffs up to 230 meters high, Nusa Penida's southeastern and southwestern coastlines, which face the Indian Ocean, are rugged and magnificent. You can drive to within several hundred meters, hike to the top, then walk down steep paths to springs emerging at the foot of the cliffs just above the sea.

Flora and Fauna

No native vegetation here. The island's few uncultivated patches are mostly imported weeds and grass. In stark contrast to Bali, Nusa Penida is a dry, hostile land of arid hills, big cacti, low trees, patches of green, small flowers, thorny bush, shallow soil, and no running surface water. The few animals who live—or rather, survive—on Nusa Penida include birds, snakes, and kra. Walter Spies, in a trip to the island during the 1930s, discovered unusual copper-colored bats that derive their color from algae which grow in their hollow hair.
Birdlife—like white cockatoos—is more Australian than Asian. White cockatoos inhabit Nusa Penida. Other rare species, like the white-tailed tropicbird and the white-bellied sea eagle, breed in the spectacular cliffs of the southeast coast. The island is also the home of the exceedingly rare Rothchild's mynah and a breed of cock much prized as an offering in exorcistic rituals.

History

Once known as the Siberia of Bali, Nusa Penida was formerly a penitentiary island of banishment for criminals, undesirables, and political agitators fleeing the harsh and unyielding reign of the Gelgel dynasty. The inhabitants were overwhelmingly of the Sudra caste, with few Ksatriya and Brahmana among them. In Balinese mythology, the island is the home of the fanged giant Jero Gede Macaling, who periodically sends his invisible henchmen to southeastern Bali via the beach at Lebih, spreading plagues, famines, droughts, and rats. The word caling means "fang" and those dying of cholera on Bali are said to be "ambil Macaling" ("taken by Macaling"). Mainlanders attempt to chase the demons away by means of exorcistic trance dance-dramas such as the sanghyang dedari.

Although I Macaling has his own temple, Pura Dalem Penataran Ped near Desa Ped on the northeast coast, no cult images of this god of pestilence exist and he is spoken of only in hushed tones. The Balinese are loath to even utter his name, prefering to refer to him simply by the honorific title Beliau. In exchange for prescribed devotional rituals, I Macaling is expected to protect the people.

Economy

The level of chalk content in Nusa Penida's soil makes it impenetrable to water; lacking water for rice, the people grow only maize, sweet potato, cassava, soybeans, peanuts, mangoes, sawo bali, tobacco, and grass for cows. Tegelan rice is grown in the Tanglad area once a year. Except for seaweed off the coasts and coconut and cashew plantations in coastal areas, agricultural crops grown on the mostly dry, mountainous terrain are for domestic consumption, not for export.

All garden terraces are faced with the island's most abundant material—stone. Nusa Penida is literally covered in terraces supported by small coral stones. The government periodically sponsors transmigrasi programs to resettle the inhabitants in South Sulawesi. In an attempt to stem the devastating runoff and irrigate unproductive land, lined rain-catchment tanks and reservoirs have been built with the help of overseas aid programs. Concrete cisterns, a few wells drilled in the low coastal regions, and springs at the foot of cliffs in the south are the only sources of water during the long dry season.

There is no manufacturing or even cottage industry, save for a few women weaving ikat, and everything on the island is imported from Bali—motorcycles, cows, generators, most of the island's rice, even earth moving equipment.

Nusa Penida's most lucrative export is edible seaweed, grown in submarine pens along the northwest and northeast coasts, off Nusa Lembongan and in the channel between Nusa Lembongan and Nusa Ceningan. After drying on the beach and along the roads the seaweed is exported to Hong Kong for processing into agar, a thickening agent used in cooking, and carrageenan used in cosmetics and in crackers, sauces, condiments, and other food products. There's a big difference between the traditional, poor, cassava dependent, rural hill villagers of the arid interior and the more prosperous seaweed-farming villagers of the coast, which have become market dependent and can at least fish for their protein. The average seaweed farmer earns about Rp200,000 per month.

A small-scale fishing industry catches mostly sardines and Bali's largest and most succulent lobsters. On the south coast fishermen descend paths to the sea, where they fish from platforms protruding from the sheer cliff walls.

The People

The island's lack of infrastructure, meager resources, and harsh living conditions account for Nusa Penida's relatively small population of 47,000. The bulk are Hindu. Toyapekeh is the only part-Islamic village, consisting of a mixture of Sasak, Bugis, Malay, and Javanese settlers whose ancestors migrated hundreds of years ago.

Nusa Peniders are commonly thought to possess knowledge of black magic and are given wide berth by other Balinese. Most speak or understand a little Indonesian, but use their own peculiar vernacular of Old Balinese sprinkled with many words borrowed from Lombok. They have their own adat, dances, puppetry, weaving arts, and architecture. The dour and cheerless people of the central plateau live in austere one-room huts built of jagged limestone blocks, surrounded by rustic stables, storage sheds, the family shrine (sanggah), and terraced dry fields.

Most festivals and religious events are devoted to appeasing, deceiving, or exorcising the black-faced demon-king Jero Gede Mencaling and his white-skinned wife Jero Luh. Personified in giant puppets (barong landung), these terrifying deities dance and strut through village streets at festival times. Another popular exorcistic dance is sanghyang jaran, held during times of catastrophe in the Sakti area of west Nusa Penida.

Dance costumes, body ornaments, and gestures are less elaborate than on Bali. In Cemulik (near Sakti) and Pelilit (in the southeast), the gandrung is performed on Purnama, Tilem, and Kajeng Kliwon. In this dance two adolescent boys dress as women. The group baris gede dance is staged during odalan at Batunuggul, and the archaic baris pati is performed in graveyards during cremations, and the baris jangkang is occasionally trotted out to welcome officials to Sekartaji.

Water Sports

As a dive and snorkeling locale, Nusa Penida is at least as spectacular as Bunaken in North Sulawesi. But it's a long and expensive ride, and, once there, cold, strong, unpredictable swells and currents up to four or more knots make conditions challenging and even hazardous. Not the place for beginners. No dive operators exist on Nusa Penida so finding a well-organized dive outfit on Bali, a knowledgeable guide with plenty of experience in the area, a reliable craft, skilled boatmen, and a good engine are all necessities. The best dive sites, in the channel between Nusa Penida and Nusa Ceningan, are close together and you can move to alternate locations as conditions dictate.

Two of the most convenient sites lie off the dermaga east of Toyapekeh. Fish life, particularly pelagics, tuna, jacks, and reef sharks are common; manta rays collect on the southwest end of the island. The variety of coral along the drop-offs and steep slopes is incredibly rich, but because of deep upwellings the water can be uncomfortably cold, dropping to below 19° C during the Balinese winter. Visibility, up to 15 meters, is quite good.

Crafts

Nusa Penida's weaving style is called tenun Bali ikat cagcag, or by the local names cepuk or capuk. Goods are woven by hand on backstrap looms in the plateau villages of Tanglad and Karang. Distinctive blood-red, brown, and yellow traditional cloths with plaid and rough checkered designs are worn by participants in life-cycle ceremonies. The per meter price depends on the quality of the material and the intricacy of the design. A three-meter-long, one-meter-wide fabric usually sells for roughly Rp40,000. Nyoman at Bungalow Pemda in Sampalan sells cloth for only Rp6000 per meter. Clothes are also hung in Sampalan's Kios Dew, a few shops in Toyapekeh, and in the souvenir shops of Klungkung.

Getting There

Kusamba is a small Muslim fishing village on the southeast coast of Bali, a six-km bemo ride east of Klungkung (Rp600). Turn in at Jl. Pasir Putih about 1.5 km east of the town of Kusamba and walk 500 meters to Banjarbias, where you'll see small, bullish outboard-powered outriggers taking on cargo. Boats usually leave twice daily (Rp15,000 for Westerners), but only when there are enough passengers. Another departure point, preferred by Nusa Penida residents, is from Kampung Kusamba about 100 meters from the pasar. These motorized outriggers carry passengers to, among other places, Toyapekeh on Nusa Penida. Make sure you're on the right boat. The charge for Westerners is also Rp15,000 one way and the 10-km passage takes 45 minutes to one hour, depending on the wind and the choppiness of the water. When you arrive in Toyapekeh, there are frequent bemo to Sampalan (Rp500, nine km). To charter a boat from Kusamba to any point on Nusa Penida's north coast costs Rp100,000-150,000 roundtrip. Boats must return to Kusamba by 1400.

From Padangbai the charge is the same. Buy your ticket in the loket to the north of the main Lombok ferry ticket office. The first express ferry departs at around 0630, but you have to wait for it to fill up. And you might wait awhile, what with its 45-passenger capacity. The crossing takes just 30 minutes, docking at Buyuk just east of Toyapekeh. From there you can hop a bemo east into Sampalan (Rp500, five km). From Jungut Batu on the northwest coast of the neighboring island of Nusa Lembongan, small jukung motor shoot over to Nusa Penida for Rp3000 per person (45 minutes). Landing at the charming fishing village of Toyapekeh, you have the option of spending the night in Losmen Tenang or going on into Sampalan.

Prahu sail from Sanur to Toyapekeh (25 km, 1.25 hours, Rp15,000) very early in the morning. Check out the day cruises offered by Bali International Yacht Club, tel. (0361) 288391, in Sanur; Bali Intai Tours and Travel, tel. (0361) 752005 or 752985 in Tuban; and many other outfits that visit the south coast of Nusa Penida. These cruises charge around Rp160,000 per person, which includes free transport to the boat, drinks, packed lunch or Indonesian buffet, and fishing and snorkeling equipment.



Getting Around



Roads cover the island; good roads run from Toyapekeh to Sampalan and on to Karangsari, and from Toyapekeh to Klumpu. The roads from Klumpu to Batumadeg, Tanglad, and Pejukutan are winding and bumpy but asphalted and traversable. Because of the island's rocky, undulating topography, only motorcycles, trucks, or tough canopied bemo can manage the bumpy, dusty roads of the outlying areas.

Bemo run irregularly between the main villages, connecting north coast towns and inland settlements. From Sampalan, bemo begin carrying passengers out to the villages early in the morning, but by the afternoon the terminal is all but empty.

The best way to get around quickly is by motorcycle. As soon as you get off the boat at Buyuk or wander into the Sampalan terminal you'll be approached by motorcycle owners or drivers. You can either drive or be driven. It's cheaper to drive yourself, though the drivers know all the best places, can introduce you to people, and speak better Indonesian. It's Rp20,000 for a motorcycle and driver for just a few hours; for that price don't accept anything less than six hours. Expect a per diem price reduction if you take the motorbike for more than a day. Or wait a few days to meet someone, and convince a newfound local friend to drive you around for free (give a "donation" to his younger siblings afterwards). Make sure your rental agreement makes it clear who pays for gas and oil. Try to negotiate a free dropoff at your embarkation point back to Bali or Nusa Lembongan. Two good, cautious drivers are recommended: Nyoman Soma Arsana, who can be contacted by telephone through the kantor camat (tel. 0366-231-885), and Made Latoni, at Banjar Sental Kawan, Desa Ped.

You can charter a whole bemo for Rp50,000-75,000 per day; inquire at Toko Elektronik. You may also opt for an hourly rate, though drivers will demand at least Rp15,000 per hour. At Mentigi harbor, it's Rp75,000 for a small, two-engine boat; Rp100,000 for a larger one.

Getting Away

Take boats to Padangbai (30 minutes) and Sanur (1.25 hours) from Buyuk, one km east of Toyapekeh. Get there by 0700 to buy your ticket (Rp15,000) at the Departemen Perhubungan office near the pier. Each boat holds about 30 people. If there are enough passengers, a boat sometimes leaves for Padangbai in the afternoon. From Mentigi Harbor, one km west of Sampalan, hire boats to Banjarbias, then a bemo into Kusamba where other bemo pass by to Amlapura or Klungkung. The cost is Rp15,000. The Balinese operate an organized transport cartel that fixes all fares at Rp15,000 to and from Bali—and there's really no way around it if your skin is white. To their credit, most boats offer life-jackets, hard wooden benches, and double 85 hp outboards.

SAMPALAN

The largest settlement and Nusa Penida's administrative center, Sampalan is a long town around one narrow, tree-lined street crammed with shops selling food, necessities, agricultural tools, and cheap clothing. Don't miss the pasar north of the bemo terminal—traditional, classic, an example of a Bali gone by. Sampalan is a study of a growing "Outer Island Bali" urban culture, a delightful little town with just enough places to sleep, eat, snack, and drink. Warung Ceper and Kios Dewi boast color TVs to keep you connected to civilization. Because of its friendly, relaxed air, good transport services, and close proximity to the island's finest attractions, Sampalan is your best base on the island, with beautiful views across the Badung Strait to Bali; at night, try to guess which town belongs to which set of lights.
Sampalan's pura dalem, near the football field and cemetery, has a six-meter-high candi bentar adorned with menacing Bhouma statues and a fearsome Rangda.



Accommodations and Food



Bungalow Pemda, the government resthouse, is in the east part of town, a 10-minute walk from Pasar Sampalan and the bemo terminal. The bungalows, opposite a soccer field and only 50 meters from the police post, face a beach lined with jukung. Very convenient location. Five units, each containing two rooms with bathroom, cost Rp5000 s, Rp8000 d. The beds are too small and narrow, the place could be cleaner, and the mosquitoes are bad, but what do you want for two bucks? Ask to see the houseboy's private collection of cepuk (Penida cloth).

You can try to stay in cleaner rooms with local families. Ask the bemo drivers to drop you off at Made Latoni's house (Banjar Sental Kawan, Desa Ped, Nusa Penida). It is the red and white building on J1. Segara across from the bank about 100 meters west of the bemo terminal. He can arrange accommodations in one of several private homes for Rp10,000-15,000 per night. For Rp20,000 per day, Made offers motorcycle guide service.

On the road are small warung which serve nasi campur, nasi goreng, mie goreng (Rp2000), and cold drinks. Down Jl. Nusa Indah toward the terminal is Kios Dewi—neat, clean, well-lit, a good place to hang out at night. Another, cheaper place 100 meters farther toward the village is Warung Ceper (Jl. Nusa Indah 54), offering local foods like lawar, urab, ayam kampung, and veggies. A knockout kampung-style nasi campur with all the fixings is only Rp1500, though the food is generally gone by 1800. Great value, though there's no compromise with the fiery spice.

Services

Toko Anda on Jl. Nusa Indah between Kios Dewi and Warung Ceper is a very complete shop offering groceries, stationery supplies, color print film, snacks, ice cream, and cosmetics. Toko Elektronik in the bus terminal sells radios, watches, tapes, sunglasses, and calculators. There's also a bank, post office, clinic, telephone office, photo studio, and billiard hall.

Getting Away

It's easy to find bemo or a minibus east to Toyapekeh (Rp500, nine km). When full, bemo leave for Sewana to the southeast, usually starting at around 0900 (Rp500, eight km). The bemo fare to Klumpu is Rp1500, Tanglad Rp3000.

TOYAPEKEH

Means "Salt Water." A small, attractive Hindu coastal village nine km east of Sampalan, with the island's only mosque, inhabited by fishermen and seaweed farmers. This is the main market town of northwest Nusa Penida, yet it is peaceful, with an attractive white-sand beach. When the boat from Nusa Lembongan pulls in on the beach, bemo are waiting to take passengers to Sampalan (Rp500).

Stay at Losmen Tenang, right on the beach next to where the bemo wait. Price Rp6000 s, Rp10,000 d for four clean rooms with mandi. Order simple meals there or from a few simple warung on the main road. East of town is a nice beach. Motorized jukung from Toyapekeh to Jungut Batu on Nusa Lembongan cost Rp3000, and leave only in the mornings because of the tides. You disembark in front of the main surfer strip.

Pura Dalem Penataran Ped

From Toyapekeh minibus stand, ride or walk four km northeast down a tree-lined road along the sea to this temple in Desa Ped near Sentalo. On the way, you'll pass the landing stage of Buyuk on the left. The temple is about 50 meters from the beach, north of the main road to Sampalan. Built almost entirely of volcanic sandstone, limestone blocks, and patchwork cement, with rough paras carvings, guardian statues, and the leering face of Bhoma looming over the gate, it's architecturally very homely and sinister-looking. One of Bali's holy sad-kahyangan temples, this rather crude and poorly maintained pura is considered magically powerful. It's the destination of devout pilgrims from all over Bali who seek to ward off evil and sickness by praying to the sorcerer and destroyer of evil Ratu Gede Macaling, a spirit who occupies a lofty place in the Hindu-Buddhist pantheon. Beyond the outer west wall of the temple is a shrine dedicated to that terrifying protective deity, where worshippers place their offerings. Pura Dalem Penataran Ped's odalan, which takes place on Buda Cemeng Kelawu, lasts three days and features entertainment and an open-air market. Every three years on the fourth full moon a big crowded, noisy usuba festival takes place.

AROUND THE ISLAND

Circumvent the whole island by starting from Sampalan and heading first to Toyapekeh, then Penida, Batumadeg, Tanglad, Sewana, Karangsari, and back to Sampalan. Traveling by rented motorcycle or bemo you can make it in four days: one day in the Sampalan-Toyapekeh region; another spent exploring the southwest coast; the third day touring Batumadeg, Debuluh, and Tanglad; the fourth wandering in the Sewana and Karangsari areas. From Toyapekeh, the road climbs a hill for three km southwest to Sebunibus. A bit south of Sebunibus the road branches west two km to Sakti. From there, a new road winds through barren country and over a hill to Penida, in all about 17 km from Toyapekeh.

The seacoast village of Penida is nestled at the bottom of a valley filled with coconut palms, surrounded by a peaceful woods. This pretty village offers a short beach and nice scenery but has only one warung and no place to stay. Rent a jukung and visit the Shark Cave offshore. In 1994 a pipe carrying fresh water and a new road to the village were put in. An Australian planning to build a homestay and a berbintang hotel is is the permit-acquisition stage.

The road east from Sebunibus leads to Klumpu (225 meters), a small, red-roofed village about 15 km southeast of Sakti. One-half km east of Klumpu, a paved road takes you north to the coastal road between Toyapekeh and Sampalan. The Klumpu area features the island's best indigenous architecture.

From Klumpu, the road heads south and then southwest to Batumadeg, passing Bukit Mundi, Nusa Penida's highest point and the dwelling place of Dewi Rohini, the female aspect of Shiva. Climb Bukit Mundi from Batumadeg up through grassy ridges; there's a temple in a small patch of forest on the western slope. On the way down pass through the small village of Ratug.

The first tourist didn't reach Batumadeg until 1977. Today there are some warung, a few shops, and bemo connections. From Sebuluh Waterfall (elev. 300 meters) near Batumadeg take the steep path between high stone walls two km down to the sea. The road southwest from Batumadeg ends in Debuluh; from here a path leads down to yellowish sea cliffs. All along the coastline you can stand on spectacular promontories and watch the dazzling green sea 200 meters below. Offshore, rock pinnacles eroded from the cliffs shoot straight up for hundreds of meters completely surrounded by water.

Another road from Batumadeg takes you across a plateau for seven km to Batukandik, which possesses "male" and "female" shrines. This unique temple also has a prehistoric stone altar: a heavily eroded woman with enormous breasts supports a stone throne on her head, two roosters standing on her shoulders. The Holy Forest of Sahab hides a temple, said to be the exit of a mythical tunnel connecting Bali with Nusa Penida; the hole apparently starts in Pejeng.

Tanglad

This stark, rolling country feels a million miles from Bali. From Batukandik a bumpy road takes you along a gently rising and falling ridge four kilometers to the cool, 400-meter-high village of Tanglad; from Klumpu turn right and climb the hill 10 km. You can catch a bemo to Tanglad (Rp3000, 25 km) from Sampalan at 0800 or 0900, after the market. Along the way glimpse both the northern and southern coasts of the island.

Tanglad is a very traditional, preindustrial, rocky mountain village of steep-roofed stone houses sprawling across hills, inhabited by bare-breasted, betel-chewing, middle-aged women. Of a population of 2,000, sixty are weavers. Capuk cloth costs Rp6000-10,000 per meter here. You'll be shown "antique" pieces for Rp50,000, woven with handspun cotton 15-20 years ago. The rough designs and crude techniques are light years away from the sophisticated ikat designs of Sumba and Flores.

Small warung serve noodle soup and very strong coffee. The only entertainment is two billiard tables in the town bale. In the temple on the village common, see the throne of the sun-god Surya in a sculptural style reminiscent of East Java's Candi Sukuh. From Tanglad, head north to Pejukutan. Take the road south to Sekartaji, or visit the traditional houses of Pelilit on the south coast.

The East Coast

The nicest part of the island. If you see nothing else on Nusa Penida, see this. This undiscovered coastal strip lacks the laid-back quality of Nusa Lembongan's Jungut Batu but offers full Bali culture. If you can spend only a short time on Nusa Penida, just start walking south from Batu Malapan. Bemo leave Sampalan for Batu Malapan when full; Rp500 is the correct fare.

This stretch of coast is even more scenic than the east coast of Karangasem. Sewana and Karangsari villages are lovely, as are the adjacent offshore sea gardens. Here, industrious women use inflated inner tubes to move heavy baskets of seaweed. Long lines of bright jukung pull up on shore. At the side of the road are mats covered in drying seaweed.

From Tanglad, it's nine km northeast to the small fishing/seaweed village of Sewana. From Pejukutan, the road north leads down to the sea. The high cliffs of the southern part of the island give way to open beach and seaweed gardens. The village starts as soon as you come down the mountain, as the road levels out. Walk this beautiful coastal road; if you've rented a motorcycle, have the driver wait for you three km up the road at Gua Karangsari.

To the south of Sewana are several pagodalike temples, including the island's second most important, Pura Batu Madau, and Pura Batu Kuning on the beach. Malibu Point, with stunning visibility of up to 20 meters, is a favorite scuba diving spot with an excellent variety of fish, including pelagic, tuna, and manta ray, as well as hawksbill turtles. With a current of up to four knots conditions can be fierce, and the water is cold.

Gua Karangsari

Northwest 3.5 km from Sewana and about five km southeast of Sampalan, within sound of the ocean, is an immense limestone cave known by the locals as Gua Giri Putri. Hindus worship at the holy spring inside. The entrance lies 150 meters up a steep stairway. Climb down through a small opening, crouch under a low ceiling, then descend into tremendously deep, vaulted grottos—still and silent except for the squeaking of bats, which grows louder the deeper you go. Tradition has it the cave leads eventually to Pura Puser Ing Jagat in Pejeng.

Some of the branch tunnels lead to openings; at the far end of the cave is a breathtaking view of fertile rolling hills and green mango groves. The main shaft rises to a small lake. The villagers will provide you with a big lamp for Rp2000. Without their assistance, entrance should be free. For safety's sake, bring a friend. Besides the bats and some birds, there's a certain species of crab found in this cave. During Galungan, a torchlit procession of women bearing offerings visits the underground lake.

http://www.balix.com/

Wednesday, November 08, 2006
Night Life in Bali
Contrary to popular beliefs spread by travel guidebooks, not all of night life activities in Bali are the result of foreign tourists. Two spectacular night time activities that are on the opposite end of a spectrum are distintly Balinese:





* The Kecak Dance

Also dubbed by Westerners as the Monkey Dance, the Kecak Dance is a spectacular coreographic accomplishment that showcase another aspect of Balinese artistic excellence. One hundred or so bare-chested men sit down on the ground surrounding a bonfire or a fire made from coconut husks, led by a priest or a female dancer in the middle. The only music to accompany them are the beats of their palms clapping or hitting their chests, their thighs, or other parts of their bodies, rhythmically accompanied by shouting and chanting. The dancers move in unison, creating a spectacular sequence of hands stretched out, pulled in, rested on the shoulder of the next person, and waists gyrated left and right. All in a dizzying tempo.



* Wayang Kulit


Or shadow puppet. Typically performed very late at night, a Wayang Kulit theatrical performance can last until morning. The night performance of wayang kulit is usually considered strictly entertainment, as opposed to a day performance which usually serves strict religious purpose. Temple festivals and other ceremonies can sometimes be a good place to find a wayang performance.

Balinese dances are sometimes performed at night; regularly scheduled performances are available throughout the year.

Besides those two activities, night life as commonly known in the West also exists in Bali, especially in Kuta. For you people-watchers, the cafes, pubs, and discotheques lining the streets of Kuta and Legian are definitely the place to be and to be seen. Pub crawls can require many nights, and the varieties beat even the wildest college town you would ever know. So, if your idea of fun consists of nightly pub crawls and daily sun bathing to cure the hangover, stop simply stay in Kuta, day and night. You won't be disappointed.

Up North near Singaraja, Lovina Beach also has its own collection of pubs, restaurants, and discotheques. The environment is nice, friendly, and relaxed, certainly not as hectic as Kuta. And midnight dipping into the tropical water is also something to experience up there...



http://www.indo.com/active/night_life.html



Tuesday, November 07, 2006
Bogor City
Bogor city
has a very long history in government administration remind since Pajajaran Imperium Age, history evidence just like written on Batu Tulis epigraphy, those village names such Lawanggintung,Lawang Saketeng, Jerokuta, Baranangsiang and LeuwiSipatahunan, convinced that Pakuan as the capital of
Pajajaran placed
in Bogor City.
Pakuan as the centre of Pajajaran government wellknown on
King Siliwang
i (the Emperor) government period which his coronation exactly on June 3rd, 1482. Till now, June 3rd acknowledged as Bogor City anniversary,because since 1973 both district parliaments (DPRD) of Bogor Regency and Bogor City decided the date to be celebrated every year.


As the battled effect of Banten's army to Pakuan Pajajaran, the documents of Pakuan had been vanished. Pakuan story revealed after invaded by Dutch expeditions group leaded by Scipio and Riebeck on 1687 and they researched the Batu Tulis epigraphy with other archeological sites which proven that Bogor City as centre Pakuan Pajajaran government administration.

On 1745, Netherlands E. Indies

Governor General named Baron Van Inhoff built Bogor Palaced

, along with the Daendles Highway construction related Batavia and Bogor, with the result that Bogor begin expand.

On

England colonized

period, the Governor General was Thomas Raffles - He deserved enough in expanding Bogor City by renovated Bogor Palaced and half of his land became the Bogor Botanical Garden. He assigned a Planner named Carsens who arranged the Bogor City structure as a resorted wellknown named Buitenzoorg.

After Netherland E. Indies government back, they published Desentralization Act on 1903 purposed to eliminate the traditional govern system changed by modern government administration system as a formed realization the Staadgemeente, as list below:



1. Gemeente Batavia ( S. 1903 No.204 )




2. Gemeente Meester Cornelis ( S. 1905 No.206 )




3. Gemeente Buitenzoorg ( S. 1905 No.208 )




4. Gemeente Bandoeng ( S. 1906 No.121 )




5. Gemeente Cirebon ( S. 1905 No.122 )




6. Gemeente Soekabumi ( S. 1914 No.310 )





(Regeringsalmanak Voor Nederlandsh Indie 1928 : 746-748)




The gemeente establishment were not the native interest for, but to the Netherlands and Europe community and the similarity community (Dutchs always be the Burgermeester of Staatsgemeente Buitenzoorg and just on 1940 occupied by native was Mr. Soebroto).

On 1922, as result of unsatisfied about the desentralization role, composed Bestuursher Voorings Ordonantie or State Structure Revision Act of Netherlands Indies (Staatsblad 1922 No. 216), so that still on 1922 Regentschaps Ordonantie (Regency Ordinance) formed. Regentschaps Ordonantie made the district regulation Regency Autonomy (Staatsblad 1925 No. 79).

West Java Province formed on 1925 (Staatsblad 1924 No. 378 bij Propince West Java) consisted of 5 residences, 18 regencies, 2 municipalities, where Buitenzoorg (Bogor) was one of the StaatsGemeente in West Java Province form basicly (Staatsblad 1905 No.208 jo. Staatsblad 1926 No. 368), have principle Modern Desentralization and Bugermeester occupied had been clarity.



On Japanese colonized period

, fading government administration Bogor City because central government focused on residential which placed in Bogor City. This time, institutions name changed, they were: Residence became Syoeoe, Regency/Regenschaps became Ken, City/Staads Gemeente became Si, District became Gun, Sub-District/Under Districk became Soe and Village became Koe.



After freedom period

, after Indonesia Republic souvereignity confession, government administration in Bogor City, the name changed became Bogor Big City,based form Act No. 16/1950.



Furthertmore, on 1957 the name of government administration has been changed as Bogor Municipality, according to Act No. 1/ 1957, then with Act No. 18/1965 and Act No. 5/1974 rechange became Municipality II Bogor.



With Act validation No. 2/1999, Municipality II Bogor changed became Bogor City

Resource : http://www.kotabogor.go.id/

Bogor Botanical Garden
In 1997 Bogor Botanic Garden celebrated it's
180th Birthday!
The Indonesian Botanic Gardens are a part of the Indonesian Institute of Sciences. Annually the four branches in Java and Bali attract million of domestic and international tourists. We hope that you enjoy your online visit, and look forward to your actual visit.
The Indonesian Botanic Gardens are comprised of four Botanic Gardens - Bogor and Cibodas in West Java ( the oldest and most well-known), Purwodadi in East Java, and Eka Karya in Bali. Over the 180 years of the history of Bogor Botanic Garden there have been many major contributions to science, agriculture, conservation and environmental education.


The Bogor Botanic Garden, Indonesia's first and foremost botanical garden, is 87 hectares of beautifully kept trees, plants flowers, lawns and ponds within a busy expanding city of 300,000 people. It is also a world famous institution for research and conservation that has developed over many years and is continuing to do so. The garden is an important part of Bogor city providing not only employment but a large recreational area for local residents, visitors from Jakarta and many passing tourists.


These four gardens have internationally important collections of plants, and while Bogor has plants from all over the world, Cibodas is notable as having a collection of plants found in cool, high altitude environments, with Purwodadi having many plants dependent upon more seasonal climate of East Java, and the high altitude garden in Bali with a large collection of conifers and Indonesian montane species.

Sunday, November 05, 2006
TOURISM, TRAVEL, AND RECREATION
Among the most popular tourist destinations are Bali, the restored Borobudur Buddhist temple in Java, and historic Yogyakarta. Cultural attractions include traditional Balinese dancing, the percussive sounds of the Indonesian orchestra (gamelan), the shadow puppet (wayang kulit) theater, and the famous Indonesian rijsttafel, a banquet of rice and savories.
Tourism, as a means of affording wider employment, is strongly promoted by the government, which has supported the development of surfing, skindiving, and other marine sports in the reefs and tropical seas of the archipelago and the creation of resorts in Sumatra, Kalimantan, Nusa Tenggara, Maluku Province, and Irian Jaya. Gambling has been prohibited since 1981.

A valid passport and an entry visa are required of most foreigners entering Indonesia. Citizens of Israel and South America must obtain special travel affidavits from Indonesian officials in their own countries. For certain countries, including the US, a tourist visa does not need a visa for up to 60 days. For other countries, a tourist visa for visits up to 30 days is obtainable. Precautions against malaria, hepatitis, typhoid, and cholera are recommended.

An estimated 5,064,217 foreign tourists visited Indonesia in 2000, with over 70% coming from East Asia and the Pacific region. About 25% of travelers are from Singapore. Tourist receipts amounted to $5.7 billion. The same year, there were 252,984 hotel rooms with an occupancy rate of 42%.

The cost of traveling in Indonesia varies greatly from city to city. According to 2003 US government estimates, the daily cost of staying in Jakarta was approximately $195 per day. Daily expenses were an estimated $130 for Surabaya, $114 for Medan, and $220 for Bali. Elsewhere the estimated daily cost was about $96.



http://www.nationsencyclopedia.com/



Palembang
Palembang located on the bank of the Musi river, Pelambang has been major port for over 1200 years. In fact stone inscriptions have dated Pelembang is a wealthy oil town with many modern conveniences, yet ancient cultural tradition remain.

For example, the Gending Srivijaya, which resembles a classical Thai dance, dates back to the 7th century. Visitors can witness Palembang's culturel heritage at the Rumah Bari Musium complex, which a section devoted to natural history.
Prehistoric Stone Sculture: West of Palembang just of the rail line to Lubuklinggau, is the town of Lahat, the gateway to the Pasemah Highlands Scanttered region line significant megaliths, tombstones, pillar and other stone artifacts dating back to 100 A.D. These remain are considered the among the best examples of prehistoric stone sculpture in Indonesia. Rock have been shaped into armed warriors and fighting snakes, as well as mystical sancutuaris.



http://www.pactoltd.com/hotspotdetail.asp?CategoryID=1000144



Thursday, November 02, 2006
Puncak Jaya, Irian Jaya
The summit of Puncak Jaya ("Victory Peak") as it is called in Indonesia, better known as Carstensz Pyramid among climbers, stands at 4.884m and is located in the western central highlands of Irian Jaya at a latitude of 4° S. It is the highest peak in Oceana, or the Australasia continent, and in Indonesia. It is also known as Mount Carstensz, named after Jan Carstensz, the Dutch explorer who first saw the mountain and the glaciers from the coast in 1623.
The area is one of only a few present-day, ice-covered equatorial regions. The summit was first reached in 1962 by the Austrian climber Heinrich Harrer and his team. Puncak Jaya is part of the 2.500 km long Pegunungan Maoke or Central Range, home to several peaks almost as high as this mountain.
The range also supports glaciers in three different areas, all part of Indonesian territory; Carstensz, Puncak Mandala (4.640m) and Ngga Pilimsit (4.717m). Puncak Trikora (4.730m) also used to have an ice cap, but that disappeared sometime between 1939 and 1962. In fact all glaciers have retreated during the last century due to warmer climate. The Puncak Jaya massif has four separate glaciers, and it is possible to go skiing as high as Ngga Pulu (4.862m) at the head of the Meren glacier. The Carstensz glacier is located about 300m below the summit of Puncak Jaya, which is bare rock.


Close up of the normal route through the North face of Carstensz Pyramid. © Harry Kikstra, 7summits.comThe total area of these four ice-covered areas is today about 7.2 km2. They are divided into the Northwall Firn, the Meren Glacier, the Carstensz Glacier and the Southwall Hanging Glaciers. The seasonal climatic variations on the Puncak Jaya massif are very small, mean temperatures vary by less than 0.5 °C during the year. However the continuing retreat of the glaciers, more than 2 km for the Carstensz and more than 3 km for the Meren Glacier during an observation period between 1850 and 1972, indicates a warming of the regional air temperature by 0.6°C per century.

The area is surrounded by unexplored rainforest, and difficult to reach. There has also been some guerilla activity here by OPM, related to the huge Freeport copper mine near the mountain at Tembagapura, the natives strongly oppose the mine as they see it as polluting and a sign of imperialism. Still the mountain is climbed every year by westerners, as it is one of the "Seven Summits", the seven highest peaks on each continent. The climb is considered to be of moderate difficulty, but actually one of the most difficult of the "Seven Summits", even if it is the lowest. The route follows the north face for about 500m of solid rock, the summit ridge undulates for 500m more to the top, with gaps up to 20m.

On the summit of Carstensz. In the back is 7summiteer and first Everest winter climber Leszek Cichy, front: 7summiteer Jaime Vinals, Harry & Jose. © Harry Kikstra, 7summits.comThe normal port of entry for climbers is Timika, a booming mining town with an airport close to the south coast. From here they can reach the Singha Village with helicopter, and then a long walk of about 100 km (4-5 days) through the rainforest before they reach base camp at the northern foot of the mountain, at about 3.900m. Normal time from base camp to the top is about 10 hours, and 6 hours back. The whole trip will take about two weeks. You will need a travel permission (Surat Jalan) to go to Timika and also to climb the mountain, this should be organized in Jakarta before your travel, as it can take some time to obtain.



http://www.indonesiaphoto.com/content/view/15/42/



Bromo-Tengger national park
Bromo-Tengger national park is located on East Java, about three hours by car from Surabaya. Tengger is a huge, old caldera with the Bromo volcano inside. The smoking cone of Bromo raises from the plain of this 10 km wide caldera, but is not the highest mountain inside. Side by side with Bromo are also other mountains like Gunung Batok (2.440m) and Gunung Kursi (2.581m). Bromo (2.392m) and the nearby Semeru volcano, the highest mountain on Java (3.676m), have during the two previous centuries had at least 100 eruptions.


The eruptions have sometimes caused large damages, but is also the reason why this region is so fertile. Like the rest of Java the soil consists largely of volcanic dust and ash, which on this particular island is not acid.

Smoke is always rising from the crater, the smell of sulphur can be very irritating.A legend tells the story about how the Tengger caldera was dug out with just half a coconut shell by an ogre in love with a princess. If he succeeded with his task in just one night the hand of the princess should be granted to him. When the king saw that the ogre might succeed, he ordered his servants to pound rice. Due to this the cocks started to crow, thinking that dawn had broken. On hearing this the ogre threw away the coconut shell before dying of exhaustion. The coconut shell became Gunung Batok and the trench became the sand sea.


After the collapse of the Majapahit kingdom this highland became a refuge for Hindus who did not escape to Bali, and today the Hindu society here is, next to Bali, among the largest in Indonesia. There are growing cultural ties with Bali. For the Hindus Bromo is regarded as sacred, a large temple is built on the plain just below the smoking volcano, and due to the geophysical instability of the area it is quite new. Hindu ceremonies are frequently performed here, the most important is the colorful Kasada festival, where the Tengger people throw offerings into the crater at sunrise to please the volcano god.

The first sunlight appears and the nearby mountains turns from invisible to the most fascinating landscape.Depending on your starting point the trip to Bromo can be made in one day. If you like to spend the night there are some hotels at the edge of the Tengger caldera. Many come here from Surabaya, but also Probolinggo at the coast is a popular base for exploration of this district. For many travelers to East Java the sunset from the top of Bromo is a must. If you start from Surabaya or another place not too far away you can rent a car with driver and guide and depart in the middle of the night. Arrival will then be in sufficient time before sunset and you will travel to the volcano top either by horse or by walking. These small horses have an incredible stamina, but the trip is only two kilometers in flat terrain and can easily be made by foot.

Leading up to the narrow edge of the crater is a long stair, and up there you can only wait for the sun to light up the incredible landscape and feel the temperature raise. Temperatures can easily fall to 15 degrees C and lower at night. The sunset is worth the trip, especially if you arrived in the darkness and never seen this landscape which is unfolding in front of you before. It is not the Bromo volcano itself that is so spectacular, it is the landscape that surrounds it.


In the valley leading up to Bromo you can buy flowers of local kids.There is also a lot to see on the way back. After breakfast at one of the hotels on the edge of the Tengger caldera, the car will bring you down the green and fertile valley passing a few villages. If there is time a visit to one of the waterfalls along the road can be recommended. If you don't want to go there at night the trip can as well be done during daytime, however the temperature then will be much higher. It takes some more effort to walk to the top of the mountains surrounding Bromo, but the view is supposed to make this worthwhile. It is also possible to climb Semeru, but the track is sometimes closed because of volcanic activity.



http://www.indonesiaphoto.com/content/view/117/42/



Subscribe to Posts [Atom]